The Illinois Sports Betting Online Market: It Finally Works
Illinois sports books were finally opened to the public on March 9, 2020. It was a planned start, so it would click with the 2020 March Madness. Eddie Olczyk, a legendary Chicago Blackhawks player, made a ceremony out of the first bet.
The time for legal sports betting in Illinois finally came, but no one assumed the bumpy start. The COVID-19 pandemic closed down all sports schedules across the USA, so we didn't have anything to bet on.
But hey; it's still good news for sports fans. As soon as the sports leagues resume, we'll be able to get our money wagered on sports.
It seems like sportbooks will be dominated by the casino industry, but we'll see a few more options here and there. Now that wagering on sports is legal, we only have to wait and observe how it evolves. We'll be updating this article on the go, so you'll keep getting current info here.
About the Sports Betting Legislation in Illinois
The Professional and Amateur Sports Protection Act (PASPA) set the legal status of sports wagering on a federal level in 1992. With the exception of licensed Nevada sports pools and sports lotteries in Montana, Delaware, and Oregon, all other forms of sports gambling were banned. In May 2018, PASPA was overturned, with an explanation that it conflicted with the Tenth Amendment.
From that point on, the states were left to create their own legislation regarding sportsbooks.
In June 2019, the legislation by Gov. J.B. Pritzker was signed. It included several bills as part of an infrastructure plan worth $45 billion.
The sports bettors in Illinois are mainly interested in bill SB 690; which expanded the number of casinos permitted to receive license in Illinois and made sports wagering legal across the state. Wagering revenue will be taxed at 15% for brick-and-mortar venues and 20% for online platforms. This money will contribute towards the $45 billion infrastructure plan.
Under the current legislation, the Illinois Gaming Board is able to issue licenses for the following categories of sports wagering:
Occupational
Master
Central system provider
Tier 2 data provider
Supplier management services provider
Are you wondering why Illinois and other states legalized sports wagering? They saw the facts: these bets were happening on international websites, so the states would rather control them and get a percentage of the industry's value in their budgets. Smart.
What Sportsbooks Have Been Granted Licenses
As expected, DraftKings, FanDuel, BetRivers, and BetMGM were the first ones to enter the industry. Wagering is available on their locations, and it will be expanded on through their websites, and through sports wagering apps. But there's a lot of competition!
Online sportsbooks are still not available for Illinois residents. At the moment, they can only count on Illinois sportsbooks, which are associated with local casinos.
| | | |
| --- | --- | --- |
| Online Sportsbook | Launch Date | Mobile App |
| DraftKings | May 1 | In development |
| FanDuel | May 1 | In development |
| BetRivers | May 1 | In development |
| BetMGM | May 1 | In development |
| PointsBet | Not determined yet | In development |
| Betfred | Not determined yet | In development |
| Wynn Sports/Smarkets/BetAmerica | Not determined yet | Not determined yet |
How to Start Wagering Online
Wagering through desktop sites and mobile sports betting apps is still in development. But hey; it's good to be prepared. As soon as you're allowed to start placing bets, this is what you'll do:
Keep in mind that the minimum age required for placing legal bets in Illinois is 21.
Choose an online provider. We'll be offering detailed reviews on our site. They will help you make a decision.
Create a profile. In most cases, you only need to provide your email and choose a username. Once you verify that information, you'll include a banking method.
Choose your favorite sport. We recommend placing bets based on knowledge and intuition; not on pure whim. When you know a sport and you watch it, it's safer to make a prediction.
Find the league and competition under the desired sport. Then, choose a game and place a bet from the ones that are available.
The bet will be added to your bet slip. There, you'll be able to set a chosen stake, and you'll immediately see how much money you'll win if you get it right.
You can add multiple bets in the slip, under the same stake. The multi-bet strategy reduces the chances to win, but it also leads to much higher winnings.
How to Start Sports Betting Through a Mobile App
Currently, you cannot bet through Illinois sports betting apps. The debate about parlay wagering was set off to a good start. The legislators realized that they had to regulate something that Illinois consumers wanted to do. Not allowing mobile and online sportsbooks would allow black-market operators to coexist. The Illinois Casino Gaming Association supported the stand that online betting should be available.
Yes; you will be able to place bets through an app. DraftKings, BetRivers, and a few other platforms already offer their iOS and Android sports betting apps. We'll have to be patient; we'll soon be able to use them in Illinois.
First, you'll need to open an account through an Android or iOS sports betting app of your chosen provider. If you already have an online account, you'll just download the app and start using it.
Apps are tailored to work in an identical way to desktop platforms. The instructions we provided above are valid for mobile app wagering, too. The only difference is that you can tailor your bet slip on the go.

Types of Legal Sports Bets in Illinois
Before you can make a deposit and start creating a bet slip, it's important to understand the different types of bets that are available. Will you find the best point spread or odds? Will you opt for a partial game line? Let's go through the most basic terms of sports wagering that will be available on Illinois sports betting online platforms.
Point Spread
This is a popular type of bet for football and other team sports. You bet on the team or player that will "cover the spread." The provider sets a point spread, so you can bet on the underdog or bet on the player with better chances to win.
If you bet on the underdog, they have to win the game or lose less than the predicted point spread. If you bet on the favorite, they have to win the game by exceeding the point spread.
Moneyline
This is a simpler bet than the point spread. You're only picking a winner. These bets are mostly popular for hockey and baseball, but they are available for all other major sports as well.
You win the amount of your wager multiplied by the odds.
Totals
For this type of bet, the bookmaker will set a line for the total runs, goals, or points scored in a particular game. Let's say the Los Angeles Clippers are playing against the Los Angeles Lakers. The bookmaker suggests a total figure of 200 points. You can bet over or under that figure, depending on the number of points you expect in both teams to reach in total.
This is also known as an over/under bet.
Partial Game Line
This is a type of totals bet. You wager on the number of total points you expect to see in a certain period of the game.
Parlay
This type of bet gives you a chance to win the biggest amount of money with a minimum investment. It's a single bet created as a combination of two or more picks (10-12, depending on the bookmaker's rules).
To win, you must get all picks on the parlay right.
Teasers
This is a spin-off of a parlay bet. You still make a bet through several picks, but you can agree to a lower payout in order to increase your chances of a win. For example, the bookmaker may offer a teaser bet of 9.5 points that's usually 3.5 points in a regular bet.
Pleasers
To boost the potential payout, you can move the line in favor of the sportsbook. These bets are usually allowed on basketball and football spreads.
Round Robin
This is a form of parlay wagering. The only difference is that you're betting on so-called Round Robin tournaments, which require each team to play against every other team at least once in the tournament.
You can create large parlays with different combinations. The advantage that even if you lose one leg of the parlay, your ticket is still profitable.
Futures
You place the bet now, and you can forget about seeing the outcome for a very long time. For example, you can bet on the winner before the tournament starts. The benefit is that future bets may pay a lot.
In-Play
As soon as the game starts, the odds change depending on its development. The bookmaker will adjust the odds, and you can keep wagering throughout the game.
Propositional Wagers
Prop bets are focused on events within the game or the tournament. What player will score the first goal? Which team will land a touchdown first? Those are examples of proposition bets.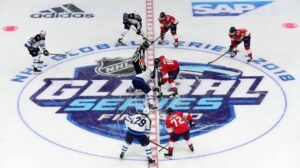 Betting on Sports: Popular Options
The list of sports that bookmakers tackle is huge. These are the most popular options:
Super Bowl
Can you stay immune to the Super Bowl weekend? A strategized wager will double or triple your excitement.
But one weekend is too short. You can extend the thrill throughout the entire NFL season. Hint: bets are especially fun for the NFL Sunday.
March Madness
The NBA is a priority league U.S. basketball, but the NCAA tournament is important, too. We missed the March Madness in 2020, but the world will eventually recover from this madness and we'll be back on track.
MLB
We shouldn't underestimate the Major League Baseball. You can place a variety of bets on all games.
NHL
The National Hockey League takes over the winter in the USA. If you like action and speed, you'll love placing NHL bets. The tournament is fast-paced, so you get many opportunities to win money over a short period of time.
Those are the most popular American sports, but it's not all. Sportsbooks also include rugby, cycling, soccer, motorsports, darts, tennis, golf, cricket, and more.
You Can Bet on Horse Races at Sportsbooks Too
Horse racing has been legal in Illinois for quite some time. However, the recent changes in legislation liberalized the horse racing industry as well. Now, off-track bets are also allowed. This means that sportsbook operators can enable horse race wagering through their websites and mobile apps.
Race tracks
There are four impressive race tracks in Illinois:
Fairmount Park, Collinsville
Gordyville U.S.A., Gifford
Arlington international Racecourse, Arlington Heights
HITS Chicago – Balmoral Park, Crete
Off-track bets
Some of the websites that are expected to enable off-track wagering include: BetAmerica, Xpressbet, TwinSpires, TVG, DraftKings, FanDuel, and more.
Are Fantasy Sports Legal in Illinois
Yes!
Residents of Illinois can legally play fantasy sports betting online. The status of fantasy sports was on hold for years, but the Supreme Court made a decision in April 2020: this activity is not considered gambling.
DraftKings and FanDuel are the most popular platforms for daily fantasy sports.
Fantasy sports are fun because they put you in the role of a team owner. How many times have you been mad for the selection of the wrong players in your favorite team? You think you could do a better job? Now you get a chance to try… without breaking any laws!
Banking for Sports Betting: Deposits and Withdrawals
The depositing methods will differ between websites and Illinois online sports betting apps. In most cases, you'll be allowed to choose from these options:
Credit and debit cards (Visa, MasterCard, Maestro, and more)
Pre-paid cards (Visa, Discover, and MasterCard)
Pay by phone
PayPal
E-wallets (Skrill, Neteller, and more)
PayNearMe
The system works similarly to online gaming. You deposit funds, which will be in your balance. Most online sportsbooks will give you bonus offers on your first deposit. Then, you'll use that money to place bets. If you win, the money will appear in your balance. You can withdraw funds when you decide to.
The Most Popular Illinois Riverboat Casinos
Online bets are convenient. But retail sportsbooks have their appeal. You meet other betters, you discuss the games, and you can get cash right after the game.
Illinois has an impressive riverboat casino tradition. These are the most popular venues:
Argosy
Casino Queen
Grand Victoria
Harrah's Joliet
Harrah's Metropolis
Hollywood Aurora
Hollywood Joliet
Jumers
Pair-a-Dice
Rivers Casino
Read our detailed reviews for more info about legal online gambling and betting options in Illinois:
FAQ
Is online sports wagering legal in Illinois?

Yes! Illinois online sports betting was legalized in March 2020. The industry is still in its infancy, but it will develop at a fast pace. As soon as the games in different sports resume, you'll be able to place your bets.
What are the best online sportsbooks?

BetRivers, DraftKings, Betdred, FanDuel, BetMGM, PointsBet, and a few other sites will lead the change. Most of them already announced their sports betting apps, which will make wagering more convenient.
Do you have to live in Illinois to wager online?

The sports betting rules say that you have to be in a state where this activity is legal. In addition to Illinois, a few other states have legalized it so far: Oregon, Nevada, Montana, Colorado, Iowa, Indiana, Arkansas, Mississippi, Tennessee, West Virginia, Pennsylvania, New York, New Jersey, Delaware, Rhodes Island, New Hampshire. Most other states are considering more liberal legislation.
Do you have to be 21 to bet on sports?

Yes. Sports wagering comes with similar regulations to gambling. You have to be at least 21 years of age to create a profile online or place a bet in person.
Where can I bet on sports in Illinois?

You can place a sports bet in any of the casinos listed above in this article. Online gambling platforms will soon start offering sportsbooks for Illinois, too.
Best Sites For Sports Betting to Win!