Sugarhouse Sportsbook Review – Is It Worth Playing?
Pros
A wide selection of sports means players will not get bored shortly after signing up. Matches are constantly added and check out the live betting for an adrenaline boost
A good user interface and mobile app mean it's easy to place bets. You can intuitively find the sport you're looking for and access the bet type of interest
An excellent loyalty program that rewards players for playing with a store where you can buy stuff
Cons
The lack of banking options means that some players will not bother using the sportsbook for their daily betting action
Sugarhouse Sportsbook is available for players that are physically in New Jersey and Pennsylvania. The players of those states love and trust SugarHouse Sportsbook for their daily betting action. It's regarded highly by other bookmaker reviews too. However, in the summer of 2020, the online operator will launch in Illinois, which means even more people can enjoy the sports gambling action.
Legislation by Gov. J.B. Pritzker, in March 2020 allows sports gambling action to take place in Illinois. The specifically approved legislation is bill SB 690. Also, the Professional and Amateur Sports Protection Act (PASPA) and Illinois Gaming Board are giving Sugarhouse Sportsbook the go-ahead to launch.
Continue reading this Review of Sugarhouse Sportsbook IL to find out why this gambling website is worth joining.
Sports Available at Sugarhouse Online Sportsbook
The variety of sports betting available at Sugarhouse Sportsbook is impressive. You can bet on popular sports such as NFL, NHL, MLB, and NBA. They are the most popular sports in the US, which means various bet types are possible. This includes futures betting where you can bet on the outcome that takes place in the future – for example, the winner of the championship.
Less common sports are also available for betting such as NCAA, NASCAR, Formula 1, IndyCar, and much more. Overall, you'll find plenty of action at Sugarhouse sports. You can also play slot games at Sugarhouse to mix up the gambling type.
Sports Betting On The Go With Sugarhouse Mobile
You can use most mobile devices to bet on Sugarhouse Sportsbook. Modern smartphones and tablets can run the app or website. It's handy because you can continue to place bets when you have left your house.
Furthermore, you can use Android and iOS devices to place bets. The website and app work equally well on both platforms. Sugarhouse Sportsbook is created to accommodate as many devices as possible. It ensures you can switch between devices and still have access to Sugarhouse Sportsbook.

Mobile App – Review Of Sugarhouse Sportsbook App
The mobile app accounts for around 80% of the bets placed on Sugarhouse sportsbook. That's a huge portion of the bets and indicates the mobile app has a good design. You can download the app via the website or visit the Apple app marketplace.
You'll notice that the app provides sports betting and casino games such as roulette. Sugarhouse Sportsbook offers both genres types of gambling, thereby providing more choice to the punter. The hub area of the app provides shortcuts to popular in-season games. It's updated regularly and gives you a quick look at the action that's happening right now. The scrolling banner towards the top of the app highlights current promotions – this too is worth keeping an eye on for free spins and no deposit bonuses.
Sugarhouse Sportsbook Betting Bonuses and Bonus Code
Online gambling is a competitive industry, so promotions are used to keep customers coming back. Promotions are an excellent way of increasing the odds of making money. Most promotions run for a limited time, which means you need to take advantage before it's too late.
The Sugarhouse Jackpot Parlay is the biggest promotion that allows you to win up to $100,000 in one high-risk bet. However, the type of wager you need is to win 8 single bets to receive the jackpot payout – it's also called parlay wagering. Furthermore, you can receive bonuses by following Sugarhouse Sportsbook's social media accounts. They randomly release promotions and the latest promo codes of Sugarhouse Sportsbook.
The refer-a-friend program is a risk-free promotion but does require some work. You have to attract 10 friends to join the sportsbook and you receive $50.
Is Sugarhouse Sportsbook Worth Joining
SugarHouse Sportsbook offers a competitive welcome bonus to attract new players to download the software. The deal is a $250 bonus, which comes in the form of a $100 matched deposit. Therefore, you need to deposit $250 to take full advantage of the bonus. Also, the deposit code is PLAY250 to get access to this welcome bonus.
The minimum amount you can deposit to take advantage of the welcome bonus is $10. The bonus money is added to the account within 48 hours, but you must meet the wagering requirement to withdraw. You have just 30 days to meet the wagering requirements, so you need to stay in the action.
Loyalty Program – What Regular Sportsbook Bonuses Can I Get
You can join the loyalty rewards program for free and there are 11 tiers. It's called the iRush rewards program and its points based. You receive 1 point for every $10 that is wagered. It only takes 40 points to upgrade to the next tier. However, the requirements increase significantly as you climb the tiers.
Visit the iRush bonus store to spend your points. You'll find a wide selection of products that are worth saving up for. It's one of the more complete loyalty program stores in the sportsbook gambling industry.
Payout Speed: How Fast Can I Get My Money
The withdrawal speed depends on the method used for the process. Withdrawals are automatically approved if you use the same method as you did for the deposit. However, if the methods different, then that triggers a transaction review – this could take a couple of days.
Bank transfers and checks are the slowest ways to withdraw money. It can take around 2-7 business days for these withdrawal methods. E-wallets offer some of the fastest withdrawal times around, but only PayPal is available right now.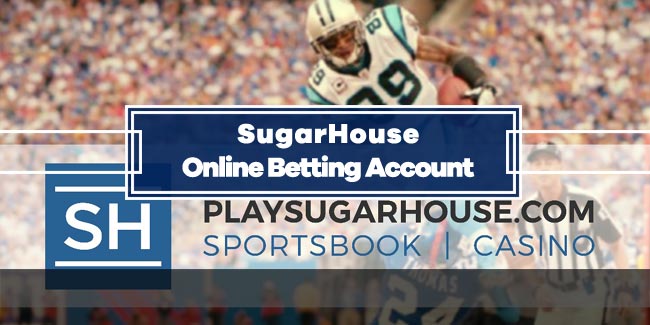 Licensing Information – Play Sugarhouse Illinois Approval
SugarHouse Sportsbook has been approved by the Illinois Gaming Board. Therefore, they can legally provide their games to the residents of Illinois. The sports betting website is also legal because of the legislation that Gov. J.B. Pritzker passed in March 2020. You can scroll to the footer of the official website to see the licensing information for yourself. The Sugarhouse Illinois review was successful by official bodies so you can play.
The People Behind Sugarhouse Casino Sportsbook
Rush Street Entertainment owns Sugar house Illinois Sportsbook. The company also owns online casinos such as Sugarhouse Casino and Rivers Casino. They have a history of operating in the online gambling industry. Therefore, you can trust the quality of the Sugarhouse Sportsbook to be competitive as they have approval from the Illinois gaming commission.
Sugarhouse Sports Betting Done Safely
Sugarhouse Sportsbook has the correct licensing, which means they were vetted by the gaming board for security standards. They adhere to common practices that other online gambling websites have to follow. This means you don't have to worry about cheating.
The banking options provided by this sportsbook are some of the best in the industry. Remember that each banking establishments take care of the security for each transaction for the most part. Therefore, you're in safe hands if you use payment processors such as Visa or MasterCard, and the variety of e-wallets. Finally, Sugarhouse Sportsbook carries out internal transaction inspections if there are red flags.
Customer Service: Sugarhouse Sportsbook Online Review
The customer service at Sugarhouse Sportsbook is responsive and friendly. You can get in touch using the following methods:
Live chat

: at the bottom left-hand corner, you'll see a box for live chat. In most cases, you don't have to wait more than a few minutes to get a response.

Email: you can send them an email at [email protected] – it's a good choice for non-urgent matters.
Telephone

: the phone number to call is 855-752-9101. It's a fast way to get help from one of their customer service agents.

Twitter

: @playsugarhouse is the Twitter name that you can use to contact reps on there.

Facebook

: they are also active on Facebook, which is an informal way of getting in touch.
Sugarhouse Online Review of Banking Options
The banking options at Sugarhouse are not the biggest, but they are going to increase them in the future. For now, you can use methods such as credit cards, e-checks/ACH deposits, Sugarhouse prepaid cards, wire transfer, and 7-Eleven cash deposits.
Be aware that the deposit options are not the same as the withdrawal ones – not even close. You only have 2 options for withdraws: an ACH deposit and getting a check in the mail. The sportsbook is still new and in the future, you can expect more options to be added.
Conclusion
Overall, Sugarhouse Sportsbook is a competitive choice. The mixture of a good sports lineup, attractive welcome bonus, and great user interface mean there is a lot to like here. The lack of banking options is a disadvantage, but that's expected to change in the near future. Give the sportsbook a try for yourself and start betting. It's one of the best sportsbook sites. You can start by placing risk-free bets with the bonus. Place bets with good odds so you can win on your first try.
We hope that information from this article was helpful but, if you still have any doubts, do not hesitate to check other reviews that we prepared for you. There are a lot of options on the sportsbooks market in the US (IL), and you can be sure that we choose only the best ones for you:
Best DFS Betting Options and Online Sportsbooks to Win!
Screenshots